Testimonials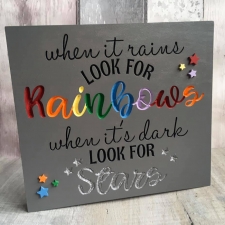 First class service from this company. The designs are fantastic, quality is excellent and customer service are so helpful and go above and beyond to help.
Every item I have from them is a joy to paint and so popular with my customers.
Thank you so much Custom Craft Shapes and I look forward to lots more lovely things to buy and paint. Highly recommended.
Allison Harker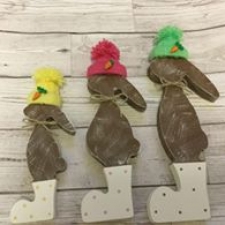 All the products I have bought from Custom Craft Shapes are well made, fab finish and a great friendly service. Thank you guys, love your products!
Amanda Middleton

I am so glad that I found CCS! They are absolutely fantastic. Extremely helpful! No question is too big or small, and their advice is exceptional! Check out their video posts on Facebook for any guidance needed.
All items are perfect and made to the highest of quality! The range they have is vast, it's sometimes difficult to decide what to buy!
I highly recommend CCS and their items. Super fast delivery and everything is beautiful.
Thank you for everything CCS!
Andrea Titterington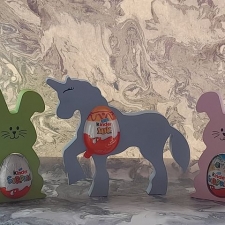 I ordered on the 15th February and my order arrived on the 22nd February!
That was quicker than the advertised 10 days turnaround, so really like the quick delivery and also love the products they do so will be ordering loads more!
Ang Murray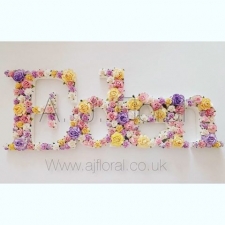 After having a really bad experience with a supplier I used for many years I stumbled across Custom Craft Shapes, they are now my go to supplier for the names I sell in my shop! I've asked them to do custom orders for me on several occasions and each time they have been quick to respond, easy to work with and I've always been happy with the results.
Their packaging is amazing, I've never had one item damaged in transit which is always a relief when needing them for my own work.
Anneka Moran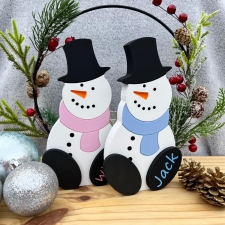 CCS are my favourite supplier! Huge range of products and delivery is always very quick ???? If you have a query or you want something made that isn't on the website their customer service can't be faulted!!!
Becky Weetman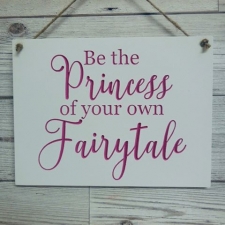 I am really pleased with all my purchases from Custom Craft Shapes. The quality is always high & they lead the way in designs & ideas. Customer service is great from all the team and delivery is always on time.
They are always happy to work with me for design ideas which is perfect for a small business owner enabling me to keep my customers happy & bring their ideas to life.
Carrie Brennan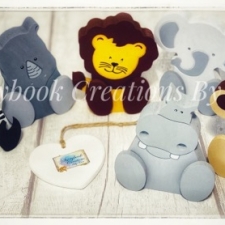 Really love this supplier! Items are always as described and excellent quality, and the range of products available is brilliant. I've been a customer for quite a while and never been disappointed with anything I've received, I would highly recommend!
Ceri Craig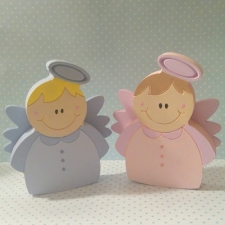 I've been a customer with CCS for 5 years now. Their products are of exceptional quality & finish, which makes my job a lot easier! Their customer service is excellent, always friendly & do their best to help in any way they can.
All of my products from CCS have become my best sellers & they are the best company for engraved pieces. I'd happily highly recommend them to anyone, you will not be disappointed.
Claire Reavey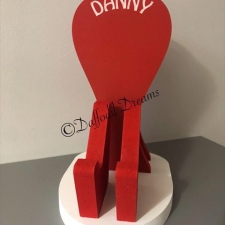 These headphone and controller stands went down a storm at Christmas. They are so easy to paint and put together.The engraving is a good depth to make for easy coverage.
They all look so different depending on the colours chosen.
Top quality MDF.
Daffodil Dreams

Custom Craft Shapes have supplied amazing products throughout the year which continue to be a great seller. I can not fault the customer service that they provide as a company as they've have got me out of of a few sticky situations too! ????
Thank you again. I cant wait to continue using you as a supplier for my small business.
Danielle Robertson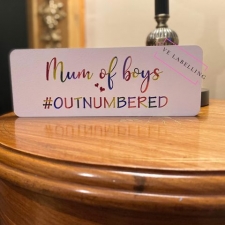 Great company with a lovely personal service! So helpful, willing to help when it is needed.
All items I have ordered have been really popular and are a fabulous quality.
Edele Smith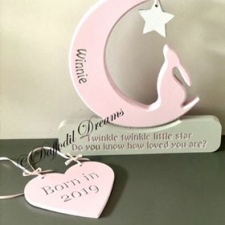 I love these hare in moons. They are a dream to paint. The quality of the wood is outstanding. Little to no sanding involved.
I love how there are so many options with it, personalised or not.
These are definitely a best seller for me.
The heart is the same high quality and is a lovely token gift for newborn.
Emma Smith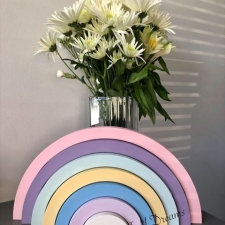 I absolutely love the stacking rainbows. Another of my best sellers.
Top quality MDF. Little to no sanding as with all CCS items.
I've done several traditional rainbows but this pastel one is my favourite. I received so many compliments about it.
Emma Smith

This is a bespoke piece I originally asked Custom Craft Shapes to help me with last year. I loved the finished product and it has painted beautifully.

They are always great responding to helping with customer requests. Highly recommend to help build your business.


Happy Little Crafts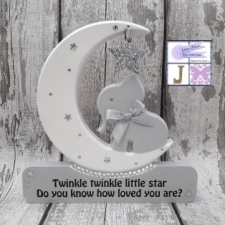 I love the way that you have excellent customer service. Nothing is to much trouble, even when i ask you to design a special item.
Your items are easy to paint with and made to a high standard. I get excited when my parcel is on its way!
Thank you, I've loved all my orders, keep up the great work x
Janette Burrows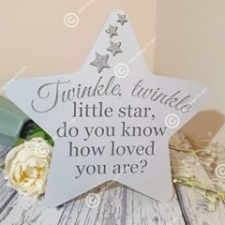 Lovely products to paint, never had an issue with any item I've ordered. Always quick to respond to any questions I have prior to ordering and are very flexible in making custom items that are not listed on the website.
Turnaround time for production and dispatch is always accurate and the items are always securely packaged to ensure no damages. CCS come highly recommended by me.
Jenna Lennox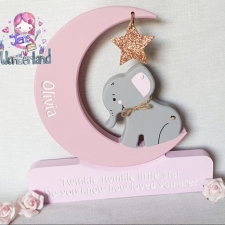 First time doing one of the very popular moon designs. Boy I have been missing out on an absolute dream to paint. The quality of the wood is amazing and so easy to paint. The details are so lovely and make them stand out suppliers. Cannot wait to paint more.
The service I receive from CCS is second to none, amazing packaging and fab service not to mention amazing suppliers to deal with helpful with any questions I have and very down to earth. Just love them, been using them for years and will always keep returning.
Jennifer Pennington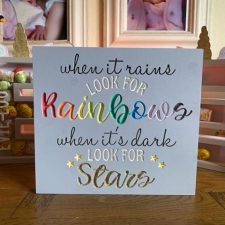 Brillant service from start to end. Answered my messages straight away and showed me exactly what I was looking for. I collected from the warehouse and they had it ready and waiting. The products are amazing quality and so easy to paint.
Highly recommend and can't wait for next order.
Jodie Jones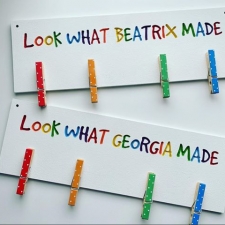 The products are always high quality allowing me to give my customers the absolute best. The product range is fantastic with so many different items and themes to choose from.
After finding this company my own business has grown from strength to strength.
Kim Bazley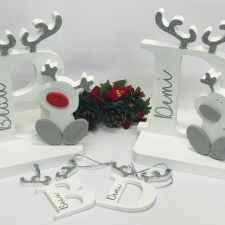 I have only been working with MDF for the last 12 months and have bought from a few different suppliers. I am so impressed with the quality, range of items, turn around times and service with CCS I won't be buying anywhere else.
The quality is fantastic and I love the add on option (especially at Christmas). Would definitely recommend buying from CCS.
Leanne Robins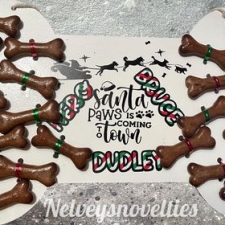 I can't recommend custom craft shapes enough, I ordered some dog advents, and they have turned out amazing. Super easy to paint, and quick delivery too! I'll definitely be using ccs for my crafting in future. Thank you.
Lindsey Neiles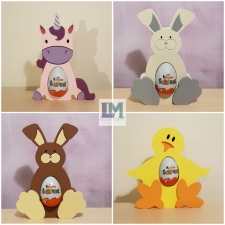 Having been a customer of CCS for over 6 months I can't fault a single aspect of their company. Their customer service is amazing and they're always happy to work with me to create numerous custom requests.
The MDF they use is of outstanding quality, which is very easy to paint! Their designs are modern and unique with new items being added to the website regularly. Always a pleasure to do business with.
Lorinda Brownhill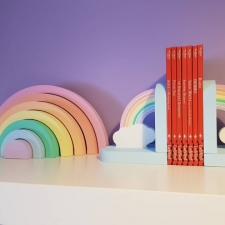 I have loved purchasing the Rainbow 7 Tier Stacker and the Rainbow Bookends.
They've been lovely to paint, and have turned out to be a very popular combination in the pastel theme alongside each other.
Louise Coumbe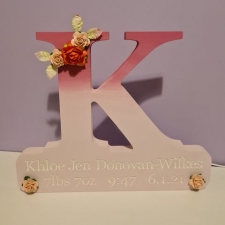 I can't fault Custom Craft Shapes one bit. After forgetting an order and realising the week before it was due, I put the order in and asked if it was at all possible to rush through (only 1 item) and they happily did that for me.
It was dispatched within 1 day and my order was able to go out.
Very happy indeed

Louise Elizabeth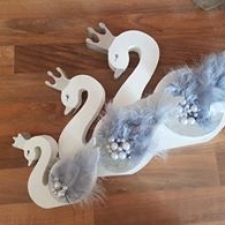 Got a few items and an April VIP Box from CCS. The wood is great quality engraving, was nice and deep and so easy to do.
Been getting a lot of compliments on my recent makes and have already ordered again. Thankyou CCS x
Lucy Charlotte Johnston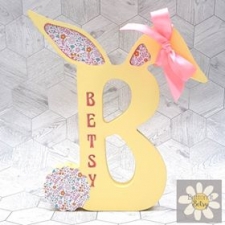 I have been a customer of CCS for a few years now and I have never been disappointed with the products from CCS. I am so impressed with the quality. Not only that but the designs are just so cool and current. My customers absolutely love the products I can offer from CCS from these gorgeous bunny letters to controller holders and at Christmas everyone goes crazy for the Christmas Wonkies! Keep up the fantastic work ? (Button It Betsy)
Nic Johnstone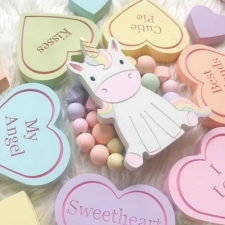 I have been buying from Custom Craft Shapes now for about 3 years. The quality is second to none, the wood is the best I've ever painted and requires little sanding and doesn't eat the paint like some MDF does.
Most importantly the customer service is amazing, I've had many products designed by Steve and the gang and I'm always over the moon with the final result. They are super patient and always polite, and they respond to enquires quickly.
Shipping is always quick and items are always packaged well and in good quality, strong packaging. They are truly wonderful and the best (in my opinion) you will find xx
Nicki Young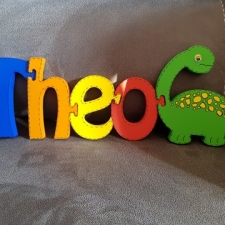 I have used CCS for around 5 yrs for all my MDF shapes, excellent customer service and quality, I'll talk to Steve about my bespoke requests and he will guide me with his knowledge as to what is the best way to go about getting them designed and cut, keep up the good work team....
Ruth Dawson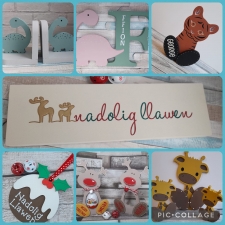 Definitely my go to supplier. The quality is the best I've worked with and the amazing designs just keep on coming! Thank you CCS
Sarah Pearce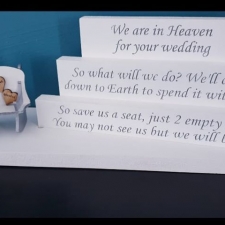 The service and quality of the products is fantastic.
These guys are highly recommended.
Wedding tribute piece: Now you no longer need to be without your loved ones on your special day.
This superb staggered block is a perfect way to pay tribute to lost loved ones.
Sarah Wade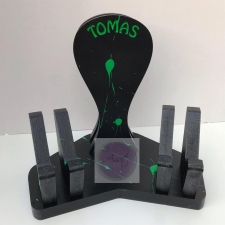 Being a relatively new customer of CCS I really can't recommend them enough. Their products, customer service and delivery is outstanding. By far the best supplier I have used.
Always very prompt to respond to any queries/requests. Able to use their stock photos to gauge interest in products, all sent when requested.
All in all top company all round. I've had amazing feedback from my customers in relation to the quality of the products too so everyone is very happy!
Tessa Bartlett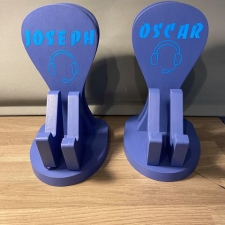 Absolutely love working with these! Have made controller holders before and they were so difficult to work with - yours are amazing!!
Some gorgeous pieces x
Verity Eggleston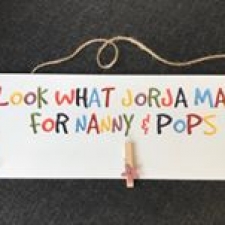 If you haven't tried Custom Craft Shapes where have you been?! Stunning products, beautifully made, an absolute delight to paint and the customer service is beyond measure...so personal, and nothing is ever too much trouble!
Thanks CCS! Xx
Yvonne Cooper